It's Labour Weekend and all eyes are firmly on the outdoors and making the most of the long, hot summer ahead.
But no outdoor living area is complete without some sort of shade.
SUN UMBRELLAS
Sun umbrellas are the easy option. For several years now, black umbrellas have been de rigueur, but that's all changing. And maybe that's not such a bad thing, as fading is a lot more noticeable with a dark colour.
Michael Pearce of Shade 7 says this year there's a noticeable move towards a bolder look for both sun umbrellas and outdoor furniture.
READ MORE
* Six home items to splurge on
* The Block's outdoor living areas
* Maximise your outdoor living area 
"One surprising trend is people wanting orange. Historically this colour is not something anyone in New Zealand would have ordered, but this is changing. 
"The second trend I'm seeing is Kiwis getting a little braver and picking brighter colours and stripes. In the past, the favourite colours for outdoor umbrellas and furniture were dark green, dark navy, black, dark grey and possibly off white. Now I'm selling more and more bright colours, such as yellow, navy and white stripes, royal blue and turquoise. 
"Normally I only expect these colour choices from hotels in the Pacific Islands. But, slowly, people are wanting to make bigger statements in their backyards and make things a bit more interesting with colourful outdoor cushions and umbrellas. Some people are matching their outdoor umbrella colours to a colour theme inside the house."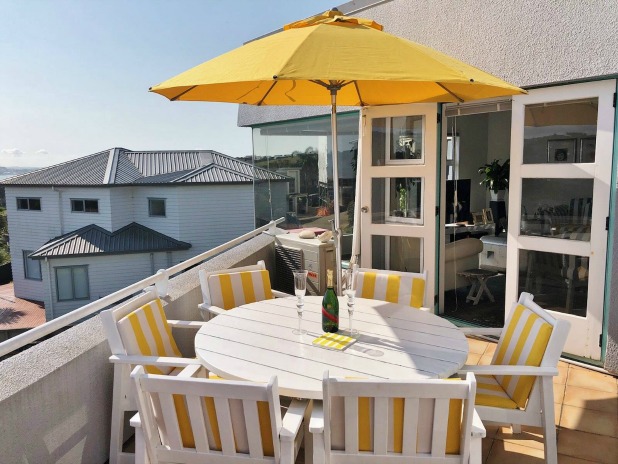 Yellow is just as popular outdoors, as in. Shade 7
---
But not to worry if bright is not your thing. Mitre 10 also notes a shift from dark rich charcoals this season, but to more earthy colour palettes. Light neutral tones are paired with pastel accessories. 
Sun umbrellas and shade sails in sand, cream and dove grey follow this trend.
A complementary trend is the 'Byron Bay' minimalist look – simple pieces with an emphasis on natural raw materials. A simple market umbrella can be teamed with furniture in cane, rattan and textured fabrics in natural tones.
MItre 10 says, for lovers of colour, the most popular print this season is a leaf design with a tropical jungle feel. An umbrella or shade sale in a deep green can be teamed with leaf-print throw cushions for an on-trend look.
If you really want to be up with the play, you could search for a vintage-style 50s umbrella, complete with patchwork fabric and tassels, although these are more likely to be seen at the beach.
It pays to remember, fabric quality is a key consideration if you don't want your umbrella to fade quickly – more expensive fabrics will have better UV resistance. And the more ribs an umbrella has, the more flexible it will be in the wind, and the longer it will last.
Interestingly, Michael Pearce says the best acrylic canvas fabrics coming out of Europe have been around for 130 years – they still come with a seven-year warranty against fade, rot and fabric breakdown.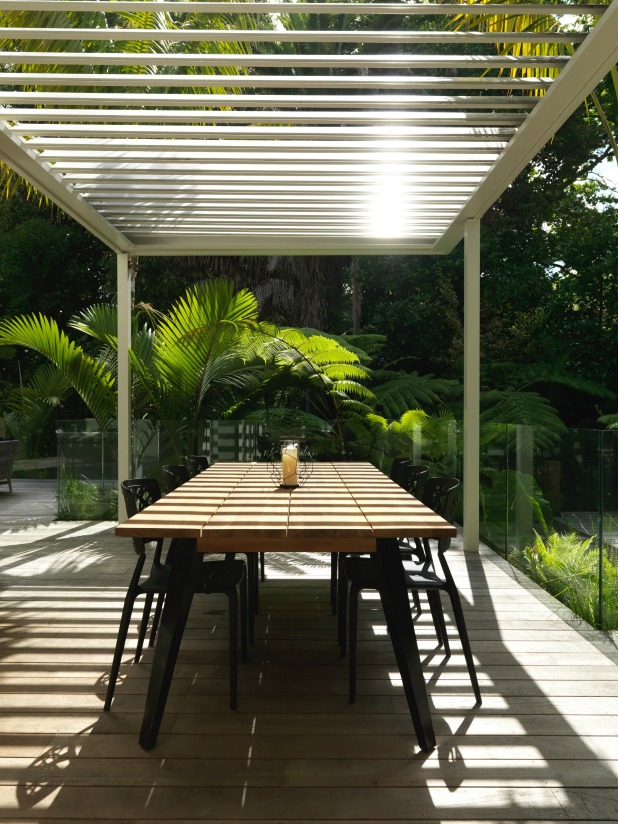 With an adjustable louvred roof, this outdoor living area can be used all year round. Jane Ussher
---
SHADE SAILS
Shade sails are a more permanent option for summer. As well as sheltering your outdoor area, they can help with privacy and keep the inside of your house cooler, says Michele Fyfe, the owner of ShadeSails.
"Shade sails can also handle the wind – you don't need to take them down over the summer. Simply put them up in the springtime and take them down again at Easter."
However, Fyfe suggests you look for a professional shade supplier so you know your shade sail will stand up to local conditions. "Property installed steel posts are a must. It's not good enough to use wooden posts or attach a shade sail to a fence."
Fyfe says when a bright white fabric can be too reflective. An off-white or natural colour that works with your ceiling hue is ideal. And you can choose from various densities of cloth, depending on how sunny your outdoor area is.
But it pays to plan ahead. Fyfe says winter is the best time to discuss your needs, as most reputable shade companies will be fully booked in the run-up to summer.
PERGOLAS
In recent years there has been a growing trend towards fixed pergolas, often with automated louvres.
Architect Paul Clarke of Studio2 Architects says a significant exterior structure should also work from a design point of view. He favours a translucent roof for an outdoor room, because "there's no point if you feel completely cut off from the environment".
He also says detailing beneath the roof, such as timber batten or a perforated mesh serves to filter the light, breaking it up into shafts and patterns.
If you do opt for solidity, make sure you have volume in the space to enhance the feeling of openness. Painting the underside in a pale hue will reflect light back into the house.
The architect says leaving a gap between the structure and the house maintains the light levels inside. There is also something to be said for a complete separation between the two spaces – so you become aware of the transition.
Architectural designer Richard Furze chose a fully automated retractable fabric awning for the pergola in his family's Sandringham property.
The canvas-look PVC fabric concertinas when the awning is open, and lies flat when closed. "We chose a translucent material so the light could get through," he says.
The awning, from Retractable Pergolas, is capable of withstanding high winds, and is available with sun, wind and rain sensors for automated closure.